Any

health-conscious person would know that excessive consumption of salt is commonly associated with high blood pressure and an entire host of health problems. According to the Health Promotion Board (HPB), the recommended intake of salt per day for an average adult is 5g. In fact, studies have consistently shown that "reduced sodium intake from salt and other sources helps to lower the blood pressure in both healthy individuals and individuals with high blood pressure".
But like everything else, salt can be your ally if taken moderately. It's composed from 2 electrically charged particles, sodium and chloride (otherwise known as electrolytes). Sodium's job is to keep the optimal amount of water inside and outside your cells as well as in your blood. In a hot country like Singapore where temperatures could be as high as 35°C, an active person's water intake may exceed the amount of salt lost through perspiration—especially if they are heavy sweaters or have saltier sweat than others.
When this happens, the water will dilute the sodium outside the body cells. Water would then seep into the cells and cause them to swell, which may result in a condition known as hyponatremia (low blood sodium). Luckily, there are beverages containing sodium that could help.
Sea salt, especially, is believed to contain essential minerals and nutrients that help keep your body's electrolytes in balance. These minerals include calcium for bone health, magnesium for proper brain and cell functions as well as iodine for cellular metabolism—many of which are missing in refined salt.
In other words? By drinking from a beverage that has both water and sea salt in it, an active person or heavy sweater will not only be able to replenish his fluids, he could also benefit from all the essential minerals and nutrients that sea salt has to offer. But having said that, it's still important not to overindulge on the salt and follow HPB's dietary recommendations for the healthier lifestyle you deserve!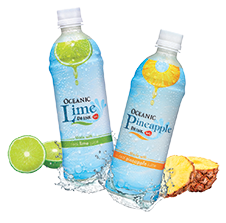 Feeling under the weather recently? Then you may want to turn to Yeo's Oceanic Drink, the recommended drink to keep you cool and refreshed for the day. Yeo's Oceanic Drink married the benefits of Australian sea salt and real fruit juice (lime and pineapple) so it not only helps to rehydrate your body and replenish the salt you lose through sweating, but also encourages you to consume sufficient fluids, thanks to its tasty fruit flavours! Yeo's Oceanic Drink is also specially formulated to have 25% less sugar than regular sweetened drinks and is proudly endorsed by the Health Promotion board to give you a healthier option for active lifestyles.
Yeo's Oceanic Lime Drink and Oceanic Pineapple Drink come in 500ml PET bottles and are available for $1.70 each at all major supermarkets, retail chains and convenience stores.