LW: You used to be a model before you ventured into acting. How did your catwalk experience help you articulate your characters on the silver screen?
CS:Having been a model helps a lot in terms of my posture, body language in delivering a character and personal confidence level. Knowing what position or posture you need to take for each role is important and the experience has served me well throughout my acting career.
We understand that you are quite the passionate foodie! What's defined as good food in your book?
I guess it all depends on my mood and cravings at that moment. As long as it tastes good and is satisfying – that's good food to me. My personal definition of a foodie like myself is someone who enjoys food! I am willing to travel, go all the way from one end of the country to the other and even queue up a long time for good food.
That includes fine dining - I am willing to pay a good price to taste food that showcases the fine culinary skills of a chef. If you needed to ask, it's obvious that I LIVE TO EAT! [laughs]
What are some guilty pleasures that you occasionally indulge in from time to time? E.g. sinful food or activities like bingewatching Korean drama.
In Singapore, I would say hawker food is my guilty pleasure because there's a lot of carbohydrates in our local dishes in hawker good (like noodles, rice) and they are usually accompanied by unhealthy oily, sodium-laden sauces. My other guilty pleasure is chicken wings!
Given your busy schedule as an accomplished actress and restaurateur, how do you "live well" enough to maintain your mental and physical health?
I try to eat as healthy and clean as possible. Also, I make time to exercise. To be honest, exercise is one of the best anti-ageing remedies, and thankfully for the other things like skin and overall body toning, I got Mary Chia to take care of me. I can't live without their MU V.TIVATE Mist Spray and their powerful antioxidant MU MIEUX collagen drink. These two MU products are essential for busy people!
What's your usual beauty regime on a typical day?
In the morning, I take my green smoothie full of the day's salad greens and vegetables, blitzed with coconut water and I usually add MU D'TOX Probiotics – helps with gut health and does a good job of detoxing the bad and keeping the good. I also drink one of the MU MIEUX Collagen drink every day to boost my collagen levels.
MU V.TIVATE Mist Spray is the part of my beauty regime that helps me to hydrate, regenerate, contour and provide some UV defense for me when I'm outdoors doing shoot or sports. It helps with radiance and gives me a glow – so much so that the director kept telling me to blot as I was "shiny"! Also, this is a very basic skincare regime: I clean my face thoroughly after a long day at work and do a mask weekly.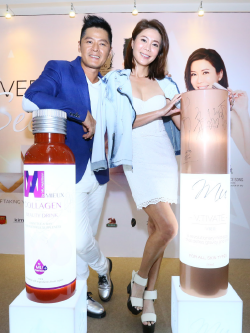 Aside from food and acting, are there other fields that you are keen to explore further?
At the moment, on top of acting, I am occupied with my restaurant business, BAM!. Learning how to do better for the restaurant and what works, is a daily learning process. That is something that keeps me going as I feel that I can still learn so much more in the food and beverage industry.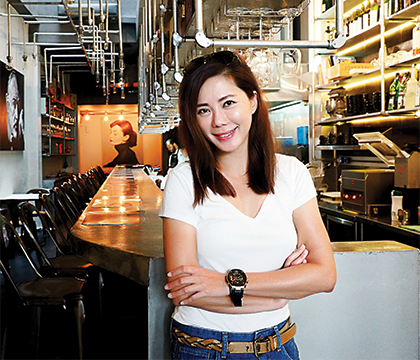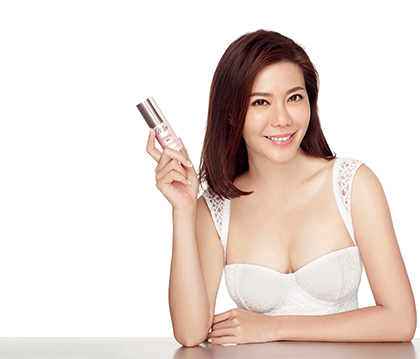 Which do you think is a more challenging role for you: that of a villain or goody-two shoes?
Of course, the goody-two shoes roles are more challenging to play because a "good" person is boring and to make it more relatable, one needs to do more homework to bring out the role with a layering of character traits. It's harder than it looks and I believe that is the real challenge.
Last but not least, what kind of super heroine do you want to be?
A super heroine? What about those service dogs that have been trained to fight in a war? They are the most voiceless animals and yet they are so loyal to the human. No matter what happens, their unconditional love and fighting spirit to fight in a war is just incredible. Every time I read or see one featured in the news, I just can't help but respect them. It's truly admirable. They are my super heroes!