GLUTATHIONE IS WITHOUT A DOUBT, THE MOTHER OF ALL ANTIOXIDANTS. SO WHAT MAKES THIS LIFE-GIVING MOLECULE SUCH A POWERFUL NEMESIS AGAINST PREMATURE AGEING, TOXICITY, AND POSSIBLY CHRONIC DISEASES?
As
a powerful antioxidant, glutathione works diligently around the clock to fend off insidious characters within our body, but not many know of its wondrous benefits. To give you some perspective, glutathione is produced naturally in every cell of our body.
It's most concentrated in the liver but can also be found in our brain, heart, lungs, and other organs. Unfortunately, due to our lifestyle and everyday stress, pollution, poor diet, medications, trauma, infections, ageing, and radiation, our glutathione bank is often depleted.
What does this entail for our body? Well, a deficiency in glutathione could lead to an entire host of problems. This includes infections, cardiovascular disease, lung conditions, neurodegenerative diseases, and depression – just to name a few. But with so many benefits to its name, are there any side effects to consuming glutathione in the long run? Dr Chiam Chiak Teng from Face, Body & Skin Aesthetics Medical Centre enlightens us:
LiveWell: Glutathione is known as the mother of antioxidants, but are there any side effects to consuming it?
Dr Chiam: Glutathione is one of the main antioxidants of the body, but it also participates in many cell reactions other than antioxidant roles. Research has also shown it to be important in other functions such as cell proliferation, detoxification and immune balance of the body.
As of now, no major side effects have been found from consuming Glutathione, although there is still ongoing research about whether prolonged intravenous infusion of Glutathione has a link with skin cancer. Intravenous infusion of glutathione has also been associated with side effects of headache, rash, and liver toxicity
What type of skin problems does glutathione specifically target, aside from skin whitening?
Glutathione, being a strong antioxidant, helps the skin to deal with sun and oxidative damage. Therefore it has a role in slowing down skin ageing due to sun exposure and oxidative stress. Glutathione also has effects on the pathway for melanin production and therefore has beneficial effects on conditions such as pigmentation.
Which is a more effective way of absorbing glutathione? Sublingual tablets or topical application? Why?
Topical application of glutathione is not effective and results in little or no absorption into the bloodstream because of rapid oxidation of glutathione when exposed to air. Similarly, orally administered glutathione is quickly oxidised and metabolised by the enzymes of the gut and liver, resulting in little or no glutathione reaching the bloodstream.
Sublingual tablets are a promising way to administer glutathione as the product is directly absorbed into the bloodstream via the blood vessels under the tongue and in the mouth. This avoids the enzymatic degradation of glutathione by the gut and liver enzymes.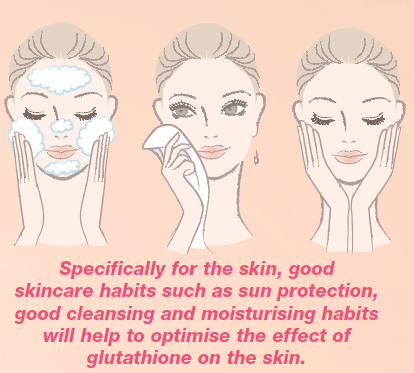 Can the human body synthesise its own glutathione with the help of Vitamin C and E?
Glutathione synthesis in the body is independent of Vitamin C and E. However, as Vitamin C and E are also antioxidants, a low level of Vitamin C and E can cause glutathione to be depleted very quickly and the levels to be low.
What kind of lifestyle changes should one make in order to fully harness the benefits of glutathione?
A healthy, well balanced diet rich in antioxidant vitamins C and E will help to maximise the effects of glutathione. Specifically for the skin, good skincare habits such as sun protection, good cleansing and moisturising habits will help to optimise the effect of glutathione on the skin.
How will a deficiency of glutathione show up on the skin or overall health?
Oxidative stress has been shown to be part of the disease causing process of many diseases such as heart disease, cancer, liver disease, Alzheimer's disease, Parkinson's disease as well as skin ageing. Low glutathione levels have been found in patients suffering from these illnesses as a result of oxidative stress, but more research needs to be done to investigate the role of glutathione supplementation in preventing these diseases.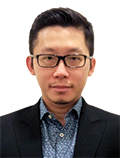 Dr Chiam Chiak Teng
Face, Body & Skin Aesthetics Medical Centre Pte Ltd is located at
290 Orchard Road #09-23 to 27, 30/31 Paragon (Lift Lobby C) Singapore 238859.
For more information, call 6235 1125 or visit www.facebodynskin.com or email enquiry@facebodynskin.com.